Use my Code "L1GR08"
Linky – https://rebrand.ly/GetSimBull
Buy and Sell our favorite sports teams like stocks.
Get a free stock worth up to $150 when you download SimBull on the Apple App store and sign up with code "L1GR08".
Every time a team you own wins a game, you receive a cash dividend. When they lose, you lose nothing. For every share you own, the payout is $0.50/win for NFL teams & CFB teams; $0.10/win for NBA & NHL; and $0.05/win for MLB. SimBull team shares are virtual representations of professional and collegiate sports teams that you can trade on SimBull, but represent no real ownership of the real life team. Every team share you own gives you the opportunity to earn a win payout when that team wins in real life. Team shares are NOT equity in the actual teams and have no relation to the teams themselves, but rather they are a virtual representation of teams that allow you to buy, sell and earn win payouts in the SimBull market.
Use my Code "L1GR08"
Linky – https://rebrand.ly/GetSimBull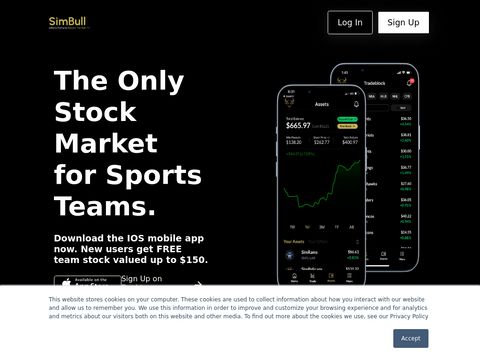 Please note that this app is for entertainment purposes only.
Professional, Legal and Financial Disclaimer for Stanley Holtsclaw